Why Use Puppets?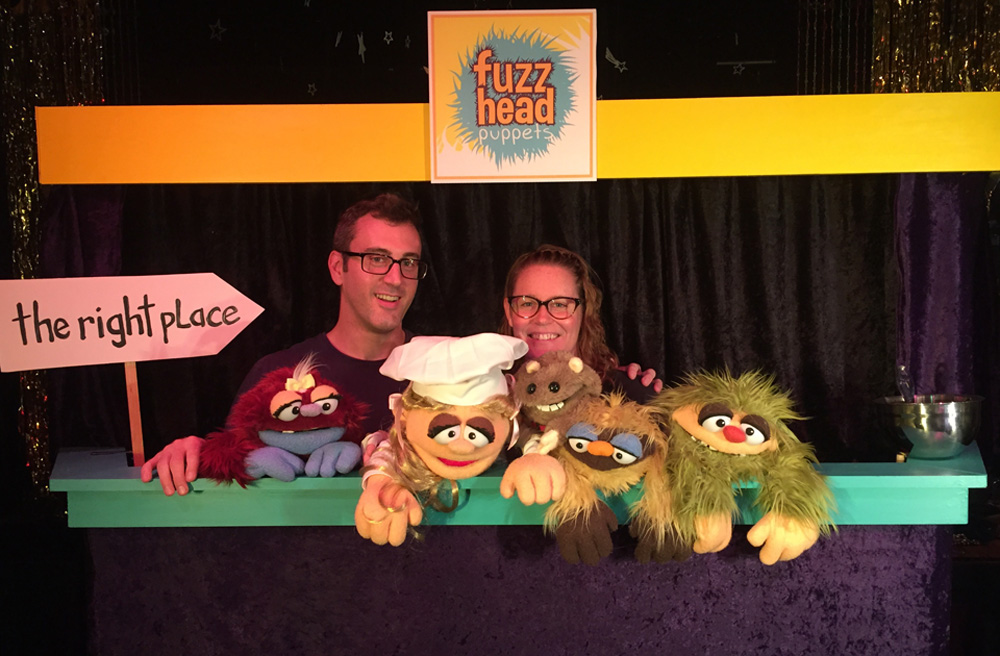 Puppetry is about telling stories. With a uniquely distinct voice, both figuratively and literally, puppets connect with an audience, hold their attention, and capture their imagination in ways other mediums cannot. Made from fabric and foam, these puppets actually exist in the three-dimensional world and can personally interact with people in meaningful ways.
Where Stories, Craft, and Creativity Meet
At the heart of Fuzzhead Puppets is a desire to create memorable characters that resonate with people and bring joy into the lives that they touch. We take this responsibility very seriously but also have a lot of fun throughout the process.
Here's what you can expect when working with Fuzzhead Puppets.
Every project is a collaboration and your input is a valuable part of the process.
We're here to help bring YOUR ideas to life.
In addition to looking great, our puppets are made to move and function well.
Each puppet is created using high quality materials and professional techniques.
Craftsmanship matters and the inside of each puppet is just as important as the outside.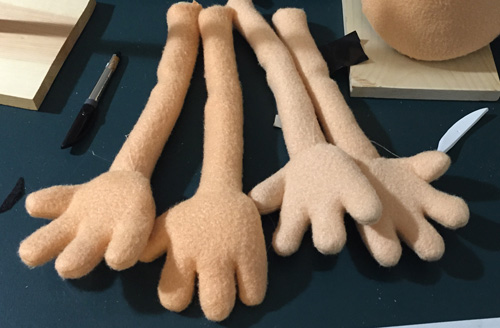 Giving You A Hand
We want to help make your ideas a reality. Puppets can give you a hand when you are looking to express yourselves or your brand in a fun and creative way.
Why Choose Fuzzhead Puppets?
"We researched a bunch of puppet makers when it was time to create the puppet version of the mascot for one of our companies. The toughest part about hiring someone you haven't worked with is having the confidence that they "hear" you and get your vision. I have to say that Dan definitely "heard"us and delivered the exact character we were looking for. Working with Fuzzhead could not have been a better experience." - Sam Mikhail, Jungle Communications, Inc.
"Dan showed up to a rehearsal with two absolutely perfect puppets that he had made in a very quick time. I was immediately floored by how professional they looked, like something straight out of the Henson workshop. They looked beautiful on stage and video, they were comfortable to perform, and completely embodied the spirit of the characters I had written. In fact, I was able to find new life and personality in the characters just from putting the puppets on and operating them." - Matt Bethune, Revolutionary Puppets
"Get your puppet from Dan and you will not be disappointed. He takes great care, his attention to detail is top-notch and he makes the process fun for his customers by engaging them." - Amie Shook
"The approach to our project was unparalleled. We marveled at the difference it makes working with someone who has a true love and understanding of the craft and how much that enhances the project. We came to Fuzzhead with unique and complicated requests, a fast deadline and required the build to be performed along with us. Fuzzhead facilitated concept brainstorming and kept an incredibly easy and friendly attitude throughout the process both in building and performance." - Julie Holmes, The Motion Picture
"The communication process was outstanding. I was able to see detailed sketches and give opinions with no worry." - Alex B. Fasano, Pasco County Parks and Recreation
"I have collaborated with Dan on many projects for the past 15 years or so. He is extremely creative and adds positive input to any project as a consultant or vendor. His character design is among the best I've had the pleasure to work with and I most recently viewed a performance he wrote and was astounded. I hope to work with him and his cast of puppet creations in the near future whenever our next video or commercial shoot requires puppetry." - Michael Lees Jr., Hanlon Creative
Frequently Asked Questions
There are a lot of questions that can come up when you are looking for the right person to create a custom puppet for you or your business. Because there are so many variables that are specific to each project, the questions and answers below are intended to give you a general understanding about our work and commission process. For additional questions please feel free to CONTACT US. We're happy to answer any questions you may have.
How Do Your Custom Puppets Cost?
My rates are comparable to other creative professionals that provide highly specialized services. The custom puppets that I create are one of a kind and can vary greatly in price depending on the specific demands of each project. There are many variables that impact the final price: material costs, design complexity, labor/time, fabrication needs, shipping, etc. I'm happy to provide a quote if you fill out the CUSTOM PUPPET REQUEST FORM and tell me a bit about your project.
How Long Does It Take To Build A Puppet?
Typically custom puppets can take anywhere from 30-50 hours from start to finish. This includes the design process, patterning, fabrication, and sewing. I take orders on a first come-first serve basis. If your project requires a quick turnaround, additional charges may apply.
Why Do Custom Puppets Cost So Much?
I believe that the work that I create provides value. I don't cut corners and I value the artistry, craft, and professionalism that I invest in each puppet that I build. I use industry-standard materials and professional fabrication techniques to create each character from scratch. My experience and expertise in the area of puppet-building provides a one of a kind, high quality piece of art for each client.
What Should I Be Looking For In A "Professional" Puppet?
I believe that a "professional" puppet is one that was built using high-quality materials and designed with the performer in mind. As a puppeteer I know that in addition to looking fantastic, a puppet also needs to perform and move.
Professional Materials That I Use
Reticulated Foam
Antron Fleece (Muppet Fleece)
Barge Cement
Faux Fur
Designed For Performance
Durable and Comfortable Mouthplate With Finger Grips
Lined Entry Into The Puppet
Removable Arm Rods
Posable Fingers With Armature Wire
Do Your Puppets Come With A Warranty/Guarantee?
Fuzzhead Puppets guarantees our workmanship against defect for 30 days or 30 performances, whichever comes first. There is normal wear and tear, however, which is highly dependent on your treatment of the puppet.
What About Copyright Issues?
All custom puppets include exclusive rights to you. Custom puppet character rights are owned by you, while we retain the rights to the patterns. This gives us the ability to reproduce future puppets for you and you only.
Can You Make Me A Muppet Replica?
Disney owns the rights to those characters. So, no I cannot. You must own the rights or have written permission from the owner for me to create a puppet based on a particular design.
Do You Make Golf Club Covers
Unfortunately I am not making golf club covers anymore. I stopped making covers back in 2013 because I wanted to focus my attention more on custom puppets, puppetry, and performance.